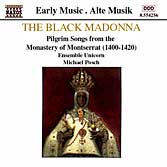 One of the most important pilgrimage sites, along with
Santiago de Compostela, is the monastery of Montserrat,
which lies some 50 kilometres east of Barcelona. In the
songs of the Llibre Vermell and those of the Cantigas de
Santa Maria, homage is paid in a variety of different
ways to the Black Madonna, believed to work miracles.
Thus from its earliest days the monastery has drawn
numerous pilgrims. The Llibre Vermell de Montserrat kept
there is a five-part codex that also includes the Cancio-
nero musical with 10 musical pieces - sacred dances and
songs. They were added to the codex of 1382 sometime
between 1396 and 1399. The manuscript is a unique
collection in that it contains instructions concerning how
the music is to be danced. It got its name, the "Red
Book," in the 19th century, when it was bound in red
velvet. The intended purpose of the musical pieces is
explained in a note before the first song: "Because the
pilgrims who come to Montserrat sometimes feel a desire
to sing and dance - and this sometimes during the night-
watch in the church as well as during the day on the
church square, where only respectful and pious songs
are permitted - a number of appropriate songs were
written to fulfil this need. They should, however, be used
with consideration, without disturbing those who desire
to continue their prayers and religious reflection." Then
the pilgrims are once again admonished to refrain from
frivolous songs and base dances,even during their journey home.



PRODUCER:
Michael Posch

ARRANGEMENTS:
Ensemble UNICORN director: Michael Posch

RECORDING DATES:
Kartause Mauerbach;
17. - 20.5.1996

SOUND ENGINEERS:
W*A*R Studio; Elisabeth and Wolfgang Reithofer

MUSIC NOTES:
Agnes Boll and
Michael Posch